Do you Doodle?
Ever wondered what your Doodles are saying?
Want to up your Doodles to artistic expressions by "coloring out LOUD" with me?  Ready to translate what your inner voice is saying when it's coloring?
Those marks and colors aren't just pretty pictures. They are messages from your inner voice communicating through your right brain and speaking through color.
Not a Doodler but ready to get in touch with your inner voice in a new and fun way?
*NOW AVAILABLE*
My "Doodle Discovery" eBook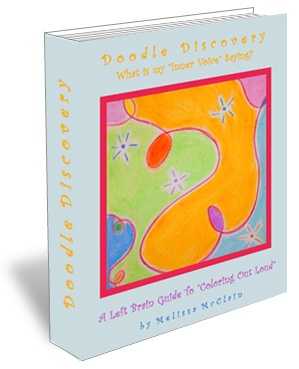 A Left Brain Guide To Coloring Out LOUD!
Get it NOW

"All the info coupled with you amazing insights and your willingness to take such risks makes your eBook a real treasure!  You did a great job!!!"
~ Ellen Koronet –  Maryland – Owner, LNK Creative
This is your guide to "Doodle Discovery". Get ready to have a left brain conversation with your right brain's art!
In this eBook you get:
Basic Doodle how-to
Overcoming Doodle fear and "stuckness" and a fun way to "up your Doodle"
Common shapes and images and what messages they may be sending from your inner voice.
Colors — my favorite topic — and what meaning they bring to the conversation when you are "coloring out loud".
Insight on your Doodle style and position and what it means.
A 7 Step process for having a left brain conversation with your right brain art.
Doodle Discovery in action!  I show you how I used the symbols and colors to have a left brain "conversation" with my recurring, mysterious Doodle.
Ideas on "intentional Doodling" to change habits or thoughts.  Try it!
"I love it!  It's so insightful!" ~Rosemary Nickel – Tampa, FL – Founder, Motivating Other Moms…and mom!
It is 33 pages of Doodley Delicious Details for you to start "coloring out LOUD" in your life!
Don't be afraid!
No, "I can't draw" statements allowed here!
Neither can I!  Really!!  Here's my first ever expressive arts Doodle.  Done in January 2011
🙂
Here's a recent Doodle:
Awe!  Sweet, huh?
But, here's the thing…
If I sit down and try to draw something, it looks nothing like my beloved Gypsy.  It actually looks "worse" than Turkey Dude (who is also a beloved).  My Doodles come from inside.  They have evolved into a voice that is intentionally unintentional.  And while Gypsy is a nice image that I could actually do something with…that was never my goal.
This isn't about being an artist!  THIS is about finding your voice…or finding a new side of your voice and expressing it in a whole new…and sometimes mysteriously exciting…way!  As my Doodles evolve, so does my "voice".  That connection with my intuition, a deeper understanding of that "inner me", and best of all my ability to express it!  HUGE!
Who doesn't want a little more expression…or exciting mystery in life?  I know it's not a week in tropical paradise full of exotic, mysterious drinks and exciting nightlife…but it's only $6.99.  So take your left brain on a vacation to a much more colorful and creative place.
Oh…and remember that left brain Doodle conversation I let you in on in the e-book…Gypsy Soul is the subject.  You KNOW it's worth the price of the book JUST to get her story.  Look at her!  How can you NOT want to get to know her?
Woke up anxious, so I intentionally changed how I Doodled.  Thanks to Melissa's eBook (!), I began on the right (not the left).  It changed my outlook!  In fact it changed what I attracted to me today.  Most amazing!
~Valerie Cline – Austin, TX – Writer, Entrepreneur, Business Owner, and Mom
Valerie used my theory on "intentional Doodling"!
Get the eBook. It's ALMOST as good as the beach.
I said ALMOST!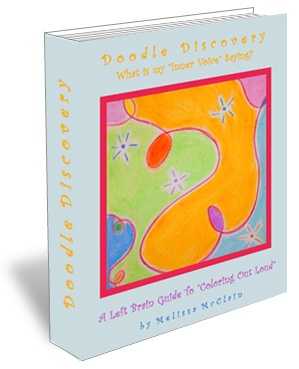 Doodle Discovery:  What is my "Inner Voice" saying?
ONLY $9.99

Don't Doodle alone! It's no fun to be "coloring out LOUD" when nobody is listening!  Check out my "Do The Doodle" 30 Day Challenge and start SHARING that voice!