WHY MINDFULNESS?
You've probably seen stories and heard people talk about the benefits of mindfulness. It's fairly hard to miss these days. You might be curious about it, you might be trying it, but at the same time you might be thinking…
I don't have time to sit and meditate. Doesn't it take a lot of time?

I can't meditate! I can't clear my mind and think of nothing…and sitting still…NO WAY!

Does it REALLY do any good?

I try to meditate but I just don't "get it." I don't know if I'm doing it right. I don't know if I'm doing anything. I'm confused!
Let me answer all those questions right up front..
No, it doesn't take a lot of time. Studies show that meditating for just 10 minutes a day has a positive result. You can find 10 minutes in your day, I know you can!
Meditation isn't about "thinking nothing" (there goes another excuse). If your mind thinks a lot, congrats!, you are human. The key to meditation is noticing when your mind starts to drift to thought and temporarily bringing it back to focus on a single thing…like your breathe. Your mind will wander again and you will bring it back. Repeat. 
Those 10 minutes I mentioned above, well, a daily 10 minute practice can help lower stress levels, improve focus and build grey matter in your brain….among other things. So yes, it really does do some good!
"I don't get it. Am I doing it right?" is something I understand completely. I felt the same way when I started meditating. Until I started using the Muse™ headset over a year ago. 
WHAT IS THE MUSE™ BRAIN SENSING HEADBAND?
Elevate your meditation experience with real-time audio feedback of the state of your brain as you meditate and end of session results and graphs giving you an inside look at your brain during your practice and showing your progress over time.
It's like a window into your brain and answers the "Am I doing it right? Am I doing anything?" questions. I've seen so much success with Muse™ meditation combined with mindfulness practices that I brought my experiences together to create an exclusive 8 week program!
For more information on the Muse, click here.
Sense Of Mind™ + Muse™ 
Combine your Muse™ with an 8 week journey in meditation and mindfulness with the exclusive Sense Of Mind™ mindfulness program. The program is a comprehensive journey into building a strong meditation practice using the Muse™ headband "on the cushion" and a mindfulness practice that extends into every day life. The program was created based on my own mindfulness practice, mindfulness trainings through Search Inside Yourself Leadership Institute and Mindfulness Based Stress Reduction and over a year of regular meditation practice with the Muse™.
In this 8 week program you'll become more focused, gain mind and body awareness for living a more "in tune" life, increase emotional intelligence and develop tools for improved stress management. Clients have noted improvements in sleep habits, a "lighter" more calm demeanor and improved management of anxiety triggers.
Join me today!
WHAT'S IT LIKE INSIDE SENSE OF MIND™
Program Guide
A complete e-workbook helps you navigate the 8 week program and get the most out of your Muse™ headband and meditation practice. The workbook includes daily and weekly worksheets for quick reflective practices on what's happening during meditation and beyond.
Weekly Lessons
Stay on track and engaged with weekly e-mail lessons that guide your through your Muse™ meditation practice evolution and integrate mindfulness lessons and "off the cushion" challenges to bring mindfulness into every day life. That's where the true benefit of your meditation practice resides.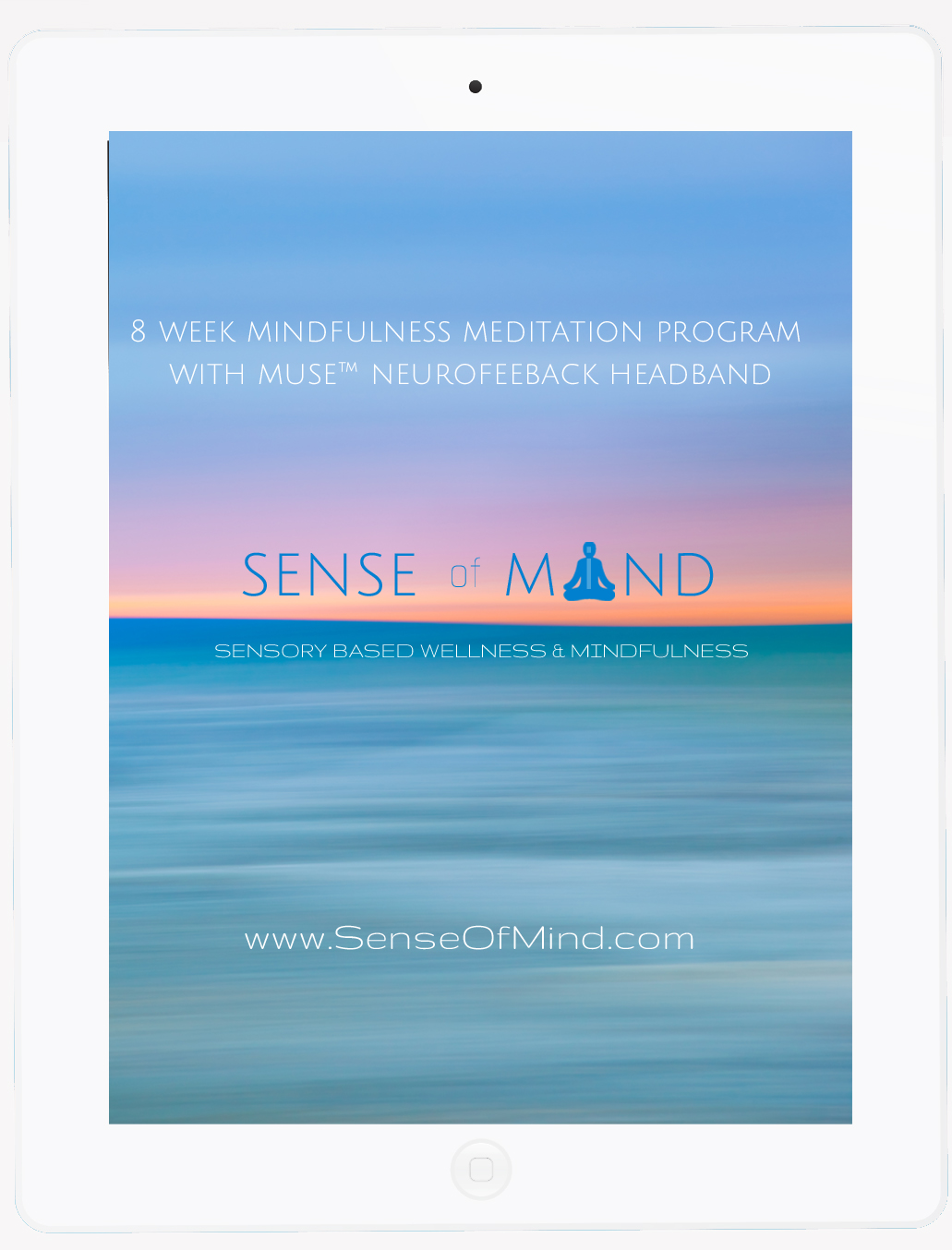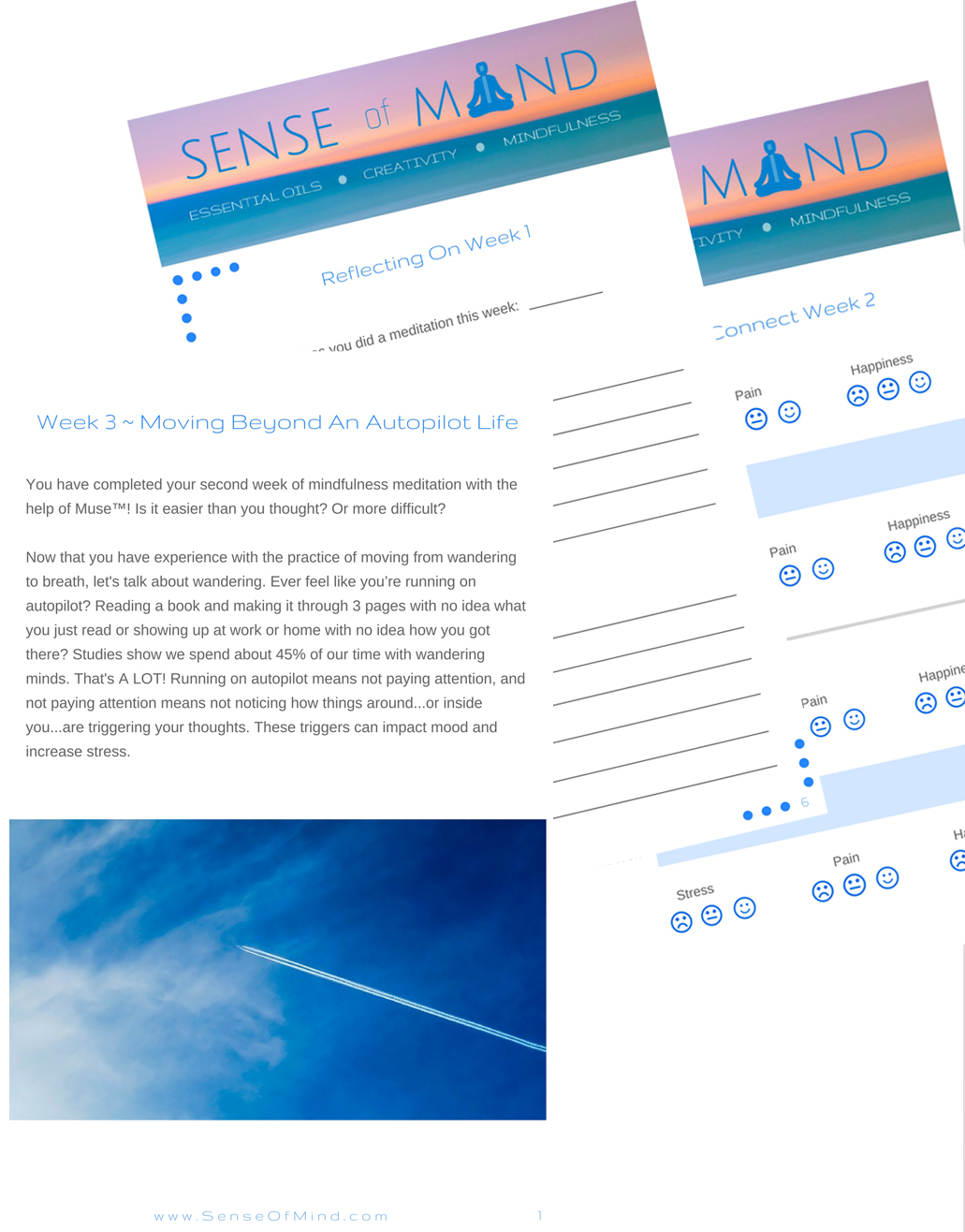 Weekly Lessons & Worksheets
Facebook Group
Join the Sense Of Mind™ community and post questions, socialize and network, explore experiences and get the latest wellness and mindfulness news and research updates on the Facebook Page or Private VIP Facebook Page.
VIP 1-1 Calls
Get personalized feedback on your meditation practice and in-depth strategies to bring lessons and insight together for more mindful living.
VIP + "Unfocus" Program
What if you had control over your ability to focus for productivity and "Unfocus" to solve problems and be dynamically innovative? These two assets will help you stand apart from the rest in business and bring more resiliency in dealing with all aspects of life. After 8 weeks of building mindful focus and concentration, learn to balance it with "Unfocus" activities that open your mind to creative thinking, innovation and problem solving.
SENSE OF MIND™ + MUSE™ BENEFITS
Get Insight Into What's Out Of Sight
Meditation can be confusing and often comes with uncertainty. "Am I doing this right?" "Am I doing anything?" The uncertainty around HOW to meditate often results in giving up…or not even beginning.
Incorporating the Muse™ meditation headband eliminates a lot of the confusion and replaces uncertainty with certainty with its real-time brain sensing technology that changes audible feedback based on brain activity. For new and old meditators alike, the Muse™ gives you a window into your brain while using feedback to train you in effective mindfulness meditation skills for optimum brain changing results.
Manage Stress & Anxiety
Recent studies reveal that our stress levels continue to rise. Neuroscience tells us that stress can literally reshape our brain. Millennials report being stressed at work most or all of the time. We fill our days. We multi-task. We want more. We need more. We are stressed!
Mindfulness and meditation can help you manage stress and anxiety in healthier ways. As you build your meditation practice you also build new inner strengths that create a buffer to stressors and leave you less reactive. Less reactivity means improved emotional intelligence, more happiness and less physical stress. Who doesn't want this skill?
Improve Focus & Concentration
A 2015 study revealed that our average attention span is 8.25 seconds. A goldfish has an attention span of 9 seconds. Yes, you will likely lose a "blink" contest with your favorite goldfish. The reality is that technology is ruining our ability to concentrate and focus. We are constantly interrupted, notified, distracted and looking for the next dopamine hit from our devices. That lack of focus makes us less productive and less present to what (and who) is happening around us.
Focused Awareness Meditation, the practice we develop in Sense of Mind™ + Muse™ helps you regain your focus and concentration. After only a few weeks you will begin to notice a longer attention span and improved presence. It's a skill that starts in your meditation and carries into your life!
Learn To "Use" Meditation
Meditating with the Muse™ is a great way to learn how to meditate and physically and mentally train your body and mind.
When you integrate the Sense Of Mind™ program with the Muse™ you get the added benefit of growing not just your meditation practice, but also your mindfulness practice. What's the difference? Meditation as an activity leads to improved attention control, regulation of emotion and self awareness. Mindfulness is a way of being that makes us more aware of everything that we do. In the Sense Of Mind™ program you establish a consistent meditation practice and develop these skills "on the cushion" and then we take them out into every day life through real world examples, challenges and personal awareness.
If you are ready to give meditation a try and see the benefits of improved focus, stress management and body mind connection let's get started!
Here are some easy ways to begin your Sense Of Mind™ + Muse™ practice, either on your own or with me as your Muse™ muse.
Purchase A Muse™ Headset - 15% Off
Purchase a Muse™ headset through Sense Of Mind™ and get 15% off the retail price!
*Affiliate Link*
Sense Of Mind™ + Muse™ Essentials
8 Week Sense Of Mind™ + Muse™ Meditation Program
Exclusive Sense Of Mind™ e-Workbook
Sense Of Mind™ Facebook Group
*Muse headband NOT included
8 Week Sense Of Mind™ + Muse™ VIP Program
8 Week Sense Of Mind™ + Muse™ Meditation Program
Exclusive Sense Of Mind™ e-Workbook
Six 30 Minute 1-1 Calls With Me
Access to the Sense Of Mind™ Private VIP Facebook Group
*Muse headband NOT included
12 Week Sense Of Mind™ + Muse™ VIP Program + "Unfocus"
8 Week Sense Of Mind™ + Muse™ Meditation Program
Exclusive Sense Of Mind™ e-Workbook
4 Week Exclusive Sense Of Mind Signature "Unfocus" Creative Exploration Program for Ultimate Brain Performance
Twelve 60 minute 1-1 Calls With Me
Custom communications and Mon-Fri text or email reminders/inspiration to keep you moving forward in your daily practice
Access to the Sense Of Mind™ Private VIP Facebook Group
*Muse headband not included
Muse™ Around Town
Why meditate alone?
Join a Greater Seattle Muse™ Pop Up Session
Use a Sense Of Mind™ Muse™ Meditation Headband (or bring your own)
More Muse™ Around Coming Soon!
Muse™ With Teams
Bring the Sense Of Mind™ Muse™ Meditation Program to your workplace, family or any group gathering. Great for team building and corporate employee development.
Use Sense Of Mind™ Muse™ Meditation Headbands.
Currently available for groups of 6 participants.
Not sure if this program is right for you? Have questions about Sense Of Mind™ + Muse™?
Schedule a Complimentary Meditation Consult for more information.
Laura M. ~ Pennsylvania
Functional Medicine Health Coach
I am really proud. I am understanding more and more that sweet spot when meditating, calming the mind & focusing on one thing.
A. G. ~ Seattle
Fashion Industry
Last night, I came away really clicking with the idea of being an observer, especially connected to tides of change at work. You have been that gentle voice reminding me to observe and see what's really happening.