A Doodle Challenge Update – Do The Doodle!
I kicked off the "Do The Doodle" 30 Day Challenge last week on my guest blog post on Creatively Fit.  It's been really fun and I love all the colorful and creative doodles that are showing up on the melissaAnne Colors Facebook Page!  If you haven't joined the challenge or checked out my Facebook page, here's what you are missing:
Zan Packard of Loving The Adventure has taken up the challenge and is "Doing the Doodle" daily!
She's also finishing final edits on her FIRST book this week!  Zan used to write in her journal first thing every morning.  Now she grabs her COLORS and doodles…before she even has her first cup of coffee.  That's Doodle Dedication!  Zan says she can physically feel the shift as she begins to relax into the Doodle and let her art lead her words.
Tom Evans of Whole Brain Thinking Whole Mind Connection is Doodling daily too.  I love Tom's Doodles. They are always inspiring.  This is one of my favorites!
My Melissa Anne "twin",  Melissa Anne Brummerstedt, of Honey Bees Cakes is sharing her doodles too.
I'm "Doing The Doodle" every day too!  Here are a few of my favorite doodles from this week.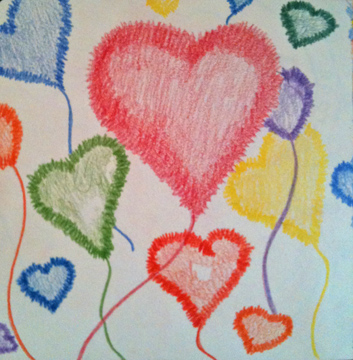 I drew this Doodle the other morning when I was struggling over "letting go" of some things I love.  It just came out…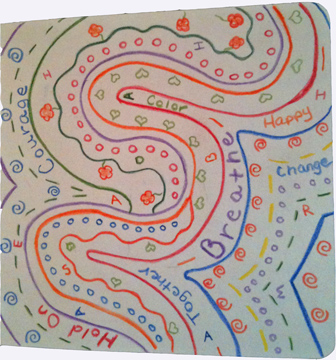 This one was just a fun, flowy, wordy free for all.  It even has some hidden words JUST FOR ME!  I woke up in a "not so great mood" but after doodling I felt so much better!!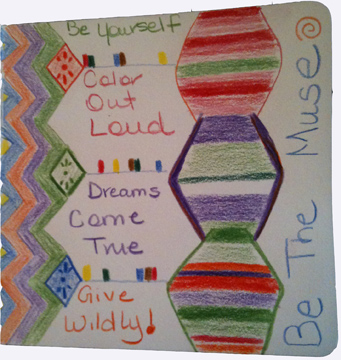 This one I did late in the day yesterday.  I was inspired by the vision board that hangs on my closet doors.  The shapes and colors are from images of textiles and designs from Morocco.  The words came from within and from the vision board.  After I Doodled I sat down to create this blog post.  I think there was a reason I waited until late in the day.  After a long day of designing for a client, I was tired and ready to shut down.  The Doodle energized me to come share and "COLOR OUT LOUD"!
Inspired to Doodle?
YES, you are!
Not sure how it works?
It's so easy!  Just grab some crayons, colored pencils, pastels, markers….anything you feel comfortable "coloring" with.  Get a journal… I chose a special journal just for the 30-day challenge as a treat and motivation.   Grab a color, whatever color speaks to you and start Doodling!  Doodle for 5-10 minutes and feel the relaxation set in.  If words come to you, or thoughts emerge, add them to the Doodle.  It's your inner voice "coloring out loud".
Not sure where to begin?  Afraid of the blank page and can't even get a Doodle shape out.  GREAT!  FUN!  Take your color, the one that speaks to you, and close your eyes.  Make a mark on the page.  Any mark.  Like this: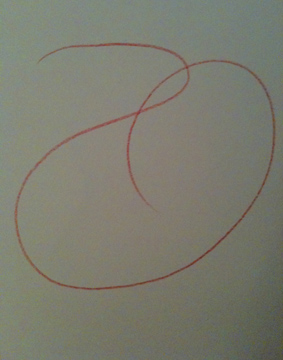 I just made this mark in my journal.  Tomorrow morning I'll use it for my Doodle and see what it becomes.  Check out my Facebook Page to see it!
Open your eyes and see if you see anything in the mark.  Turn your journal all around if you need to.  There is no top, bottom or side to my journal.  It's an open canvas for MY mind!  No rules here!! If you see something start coloring it in.  If you don't add more marks or just add color.
Maybe you never "see" anything.  Some days it's just about the release or the thoughts that come when you give in to the process.
Try it!  Don't judge your final product.  We're not looking for gallery art here.  We're letting your new voice out!
UPDATE:  Finished Doodle from Above
Ready?
"Do The Doodle" and join the 30-day challenge on my Facebook page!