Creative Color Journals
Everyone, no matter how busy or how old, is creative…
I was reading about  the 1000 Journals Project the other day.  The project was started by Brian Singer, a San Francisco designer, 10 years ago  with the goal of having journals travel around the world for people to write thoughts, discuss feelings, and share artwork.
I just love this idea given that I've started adding art to my daily journal.  It's such a fun way to express how I'm feeling, what I'm thinking, or some days to actually discover something I didn't know was going on in my head or heart.
The spirit of the project is to reach into people's creativity and connect to one another through the journals.
The program works by sharing journals filled with creativity and stories of people all over the world, each sharing their thoughts and passing it along to a friend or a stranger. The goal of the project was to provide people a place to be creative while interacting with others around the world.
Twelve of the original journals are now on exhibit at the Skirball Cultural Center in LA.  The Skirball hopes visitors will understand that "everyone, no matter how busy or how old, is a creative individual and has something to express to the world".  What better reason for an exhibit I say!
Not in LA?  No problem!  You can see some of the journals on the "next generation" 1001 Journals website.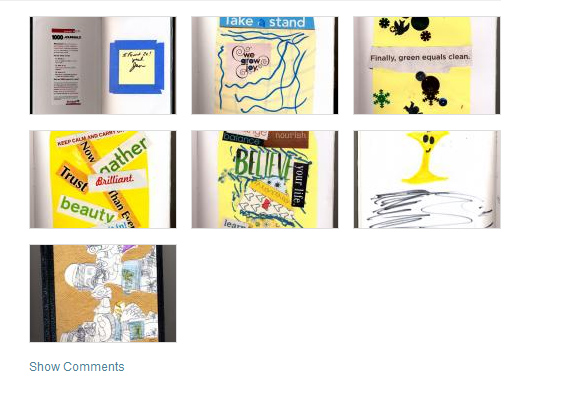 Do you have an "art journal"?  While you're over at the website, you can upload pictures of your journal pages to share with the project at 1001 Journals.
Want to get a journal  in your hands and get inspired by the words and art?  You can buy the 1001 Journals Book at Amazon.com.
"The important thing is to keep creativity alive in our lives, and we hope people become inspired to start their own journals," Porter said.
I have a few groups and friends that I'd love to start a journal with!  Who's in??