Puppy Love and A Contest at EcoSalon
 I've been living in "dog desire" since December when I met the CUTEST puppy ever at
American Kennels
in Manhattan. I was on my way to
Serendipity
with friends when I was "forced" into the store. I don't frequent pet stores. I know better. I look at the furry little balls of love in the window displays, smile, laugh, take an iPhone pic or two to send to friends or post on Facebook and I'm on my merry way. But on this day, I went WAY beyond. I fell in love with a puppy. I held puppy. I cried over puppy (I'm telling you this was TRUE LOVE).  I went BACK to visit puppy….TWICE. I "named" puppy:
Turq
–
King

Turq
to be exact. 
Well, the King and I were not meant to be and I hear he got a home up in Tarrytown with a textile designer and his partner. I'm sure he's happy…and fashionable. But, I think of him often and thought how fun it would have been to have him on my snowy morning photo shoot adventure this morning as I saw all the dogs running, jumping and eating their way through about a foot of snow.  
My favorite dog antics moment at Prospect Park this morning.  What a CUTEY!  The snow was taller than him. 
I walked home thinking "some day…" 
After my morning adventure, I got this adorable little guy in my inbox from the wonderful EcoSalon. 
I KNOW! Cute, right? It must be a sign.  He's got it all: color, texture, "hair" that won't end up on the floor and furniture, eco-friendly (and no puppy pads required which is as "home eco" as it gets!) and he has silent communication skills. Perfect! 
I entered to win him of course.  As a "stand in" until I can get a real "Turq".  He'll look fantastic with a turqouise collar don't you think?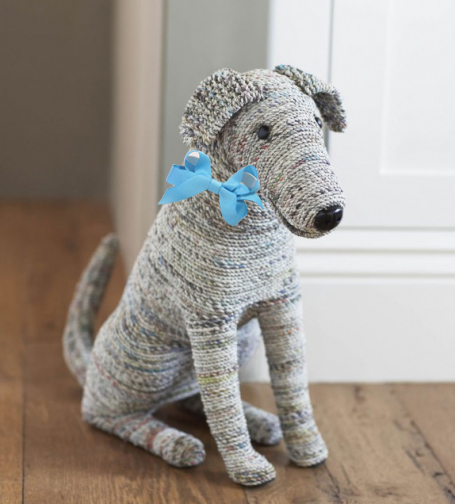 When you're at VIVATERRA, make sure you also check out Rascal….SWOON!!  Your Rover might need a playmate. 
You can enter to win Rover at EcoSalon, too.  But not TOO many of you…I'm still recovering from my first broken heart after all.