D o   T h e  D o o d l e ™
3 0   D a y   C h a l l e n g e

*New* Challenge Starts March 10!!!
"…schedule a daily time to create something, anything that is a genuine expression of who you are, what you are thinking about or struggling with. Even five minutes of dedicated daily creative time can make all the difference to you. And to the world…" ~Ben Michaelis
Yes, the WORLD!
The NEXT Do The Doodle™ program starts March 10!
Sign up NOW for only $37!!
Includes a copy of the Doodle Discovery eBook – Get ready to have a left brain conversation with your right brain's art!!!
What is "Do The Doodle"™?
Do The Doodle™ is a 30 day creative expression journaling program that is fun, colorful, and connects you with your inner voice. All you need is a journal or notebook, some fun colors (markers, crayons, or pastels) and 5-10 minutes a day.  We're coming together and "coloring out loud" as we connect with our inner voices, reach for our dreams, and open our minds to creativity and new ideas.
One Doodle. *
Once a day.
30 days.
It's THAT easy!  And it's BEYOND fun!
* I should warn you that Doodling can become quite important as you begin to see how it relaxes you and centers your thoughts.  Some days I go beyond the once a day challenge…I recently had a 4 Doodle Day!  You'll be amazed at the change in your body and mind after 5-10 minutes of Doodling *
I created the Doodle Challenge after I completed my Creatively Fit Coach Certification program.  It all started HERE, as I met my"Artist Within".  I was not a "Doodler".  I didn't draw (I told myself I couldn't draw).   But I felt like I need to get in touch with something inside so I made a committment to Doodle every day for 30 days.  I began listening to the "voice" inside and letting it out inside my Doodle Journal.
The Doodle not only helped me find my voice, but it gave me the courage to share it!  Not something that comes easy to me.  It was like art and voice lessons combined!  That's why I call it "Coloring Out Loud"™.
And, that story of "I can't draw"…doesn't exist any more!   And that "weakness" I felt in my "voice".  Well, it's getting stronger every day.
I CAN draw.  I have something to SAY!
The point isn't that I can draw, though.
What's important is that it showed me there are lots of stories I tell myself that aren't true.
The "CANT'S" are becoming "CAN'S" and I'm making changes in my life!  I feel stronger and more in touch with who I am and have connected to that voice inside…and out.
This isn't an art class.
I'm not going to "teach you" how to be an artist.  I'm going to take a journey WITH you into your right brain, creative, inner voice and we're going to see what it has to say.  AND, what happens when you start communicating with it inside and OUT of your Doodle Journal!  THAT's where the FUN really begins.
So let's get started and get on with Coloring Out LOUD™!
Loving your Doodles.  They are authentic and inspiring.  Thanks for having the courage to be uniquely and bravely YOU. ~Lori Fields…New York, NY…Coach
The doodling is definitely a wake-up call for my ME. WOW.  It's helped me break out of the roles I've been so dutifully playing for over five decades.  Finally, after all these years, I am connecting with my creative self again.  Whole new images and styles seem to be emerging, and I had the courage to take a big step towards bringing creativity to business and maybe to the public after all.  ~Ellen Koronet…Maryland…Owner LNK Creative
This has been freeing me up and I am even showing these to my husband and I think he knows that I am loving bringing my artist out again. ~Elizabeth Cassidy…New York…Writer and Creativity Coach
Join me in "Coloring Out LOUD™"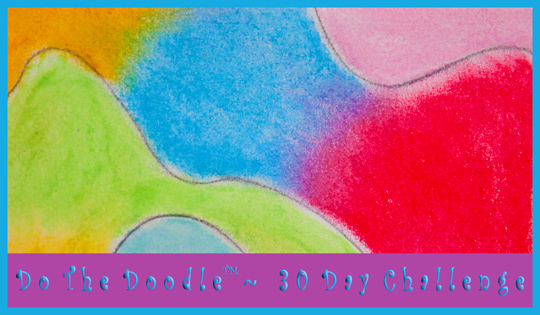 The Do The Doodle™ 30 Day Challenge is a creative expression journaling processthat connects you with your inner voice and helps create CHANGE in your life through COLOR and fun!
All you need is a journal or notebook, some fun colors
(markers, crayons, or pastels) and 5-10 minutes a day.
Get ready to color!

Why Should I Do The Doodle™?
~  You are ready to do something different in your life. Step out of your routine.  Stop saying "I can't".  Make a change.
~  You are a "morning page" person. The Doodle combined with morning pages is a fun and revealing experience.  You're still expressing, but you're doing it through color and creativity.
~  You love color. You love art. Maybe you have pushed your artistic creativity aside for too long and are ready to renew your relationship with it.
~  You want to get more in touch with your inner voice or intuition. This is why I call it "coloring out loud".  You're speaking through your creativity and it's coming from a place within.  From your right brain…who MIGHT be a stranger to you initially.
~ You are trying to find or heal your "voice". This was me!  I'm learning to express myself through color and creativity.  Yes, it was scary at first.  I was nervous to post my Doodles and my expressions!  But, it's been so fun.
I actually use the Doodle to get my morning pages started…seems to take me to a thought path quicker or perhaps just more clearer.  In any case, combinging the two is really powerful.  ~Zan Packard…San Francisco, CA…Writer
How Does It Work?
In the Do The Doodle Program™ we start slow and easy with the Doodle.  You remember the Doodle right?  It's easy and fun! We're simply going to Doodle.  Every day.  5, 10, 20 minutes every day.  Whatever you can commit to.  Time for you to get in touch with your right brain and your inner voice and start communicating in a new way.
The Doodle Program
Week 1 – Coloring Out Loud™ with basic words and shapes
Week 2 – Coloring Out Loud™(er) with the "Scribble Mark Doodle"  (You're gonna LOVE this!  It's how I "draw" all the time!!!)
Week 3 – "Doodle Stretch"
Week 4 – "Doodle Mix Up"
What You Get
A copy of my "Doodle Discovery" eBook with instructions on easy ways to Doodle and how to "Up Your Doodle".  You'll also learn how to have a left brain conversation with your right brain's art.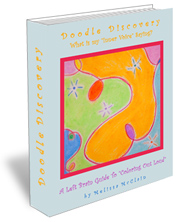 More about the eBook here!
Weekly emails from me with "Doodle Direction", reminders, creative inspiration, and more.
An opportunity to truly start Coloring Out Loud™ by sharing your Doodles, your voice, and your messages with an amazing, inspiring and private Doodle community.
This is where the "out LOUD" comes in. I've learned so much from sharing my Doodles and getting insight and encouragement from others.  It may be scary at first, but you won't want to stop!
Buy the 30 Day Challenge NOW!  Only $37!!!!

Besides being downright fun, it's truly an exercise in courage. I refused to share my first doodles, but now I don't care about whether they are "good" or not. Fear is not a factor. My perception of my accomplishments and what is worth celebrating and sharing has shifted dramatically. Thanks melissaAnne for this transformational work. And thanks Carin Channing for posting your doodles. ~Valerie Cline…Austin, TX…Writer, Entrepreneur, Mom
What Do I Need To Do The Doodle™?
It's so EASY!  A notebook or journal.  Lined, unlined…it really doesn't matter, this is for YOU!  Do what feels right for you.  Go all out artsy and buy a sketch pad at your local art store if you want to make it really special.  Go BIG or go small so you can carry it around with you and Doodle when you feel the need.
You can use any kind of colors to create your Doodles:  pens, markers, colored pencils, pastels…even your iPad or other device. Whatever works for you and is available!
Again, this isn't about becoming a world class artist…but if you do (and we have Doodlers selling their art now!), AWESOME (and don't forget me!!)…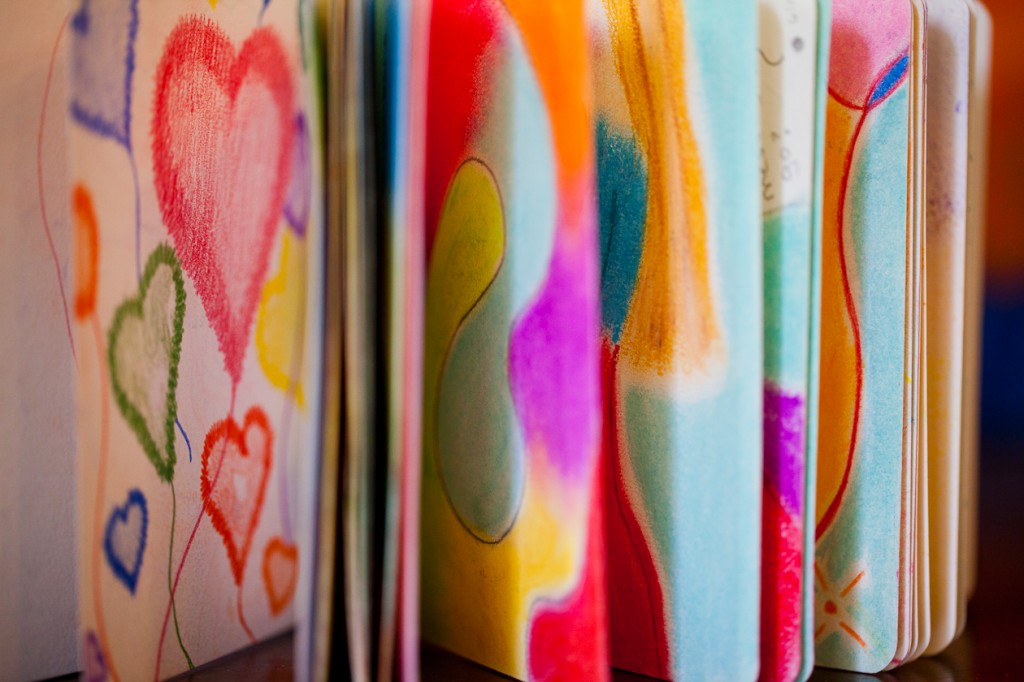 Here's a sneak peek inside my first Doodle Journal.  I LOVE color!!  My first journal was small (only 5″ x 5″) and transportable so I could Doodle on the road, on the subway, in the park…wherever!
Most of my Doodles are done with pastels (I'm a pastels junkie these days…) or colored pencils or a combination of the two.  There are no rules here!
I'm a very organized, planned person who works hard and has trouble letting my mind rest sometimes. My husband has encouraged me to have a creative outlet for years but I've feared "art".I decided to take the 30 day challenge because it was only 30 days, it wasn't a large investment of time or money. I'm so glad that I did. Once, I worked through the fear and let go into doodling, I found healing moments, relaxation, and support and insights from the group. Now, I look forward to my daily doodle and miss it when I don't. The group encouraged me without judgement and I look forward to the daily conversations with the group.  ~Melanie Rivers…Vancouver, British Columbia
Are you in?
Are you ready to Doodle?  Is it time to start Coloring out LOUD™?
30 Days  ~ 30 Doodles ~ The Doodle Discovery eBook ~ Only $37!!

Get more information on the Doodle Discovery eBook and purchase a copy here.
(Want to go beyond the Doodle?  You can get Creatively Fit by going HERE and taking the first program. Want help?  As a Creatively Fit Coach, I can work with you as you meet your "artist" and begin creating you life as art!  Contact me for more information on coaching services.)